Educate Together Blog
Educate Together Blog
We have to start thinking of education for the 22nd Century
Today, six new Educate Together primary schools will start their first full week. Three of them - Shellybanks ETNS in South Dublin, Malahide / Portmarnock ETNS in North Dublin, and Knocknacarra ETNS in West Galway - are new schools, opening in areas of rapid growth of school-going population. The other three are part of the 're-assignment of patronage process'. This aims to create a choice in areas of established population in which there is unmet demand for an Educate Together school. These are in Trim (Co. Meath), Tramore (Co. Waterford) and Newtownwhite (Co. Mayo).
In addition to this, in the past week the first three Educate Together second-level schools have opened. And on Tuesday, the first Educate Together school in the UK will open its doors to almost 60 children.
This is remarkable turnaround from the situation in 2009, when Minister O'Keeffe stopped the process of opening new Educate Together schools. In many ways it represents a watershed and the culmination of years of very hard and careful work by thousands of supporters, teachers, parents, ex-pupils and far-sighted commentators and politicians.
Educate Together is now a full service educational provider. It operates both primary and secondary schools, and has ensured that its model of education is properly embedded in the courses of colleges of teacher education. This year the first Doctoral students in ethical education are being welcomed in St Patrick's College / DCU. The work to develop Educate Together schools in other jurisdictions should ensure that we learn what is best in world education. We intend to learn and contribute our experience and participate in education that prepares children for a sustainable world.
I'd like to express Educate Together's heartfelt thanks to all those who have supported us in reaching this point. It is humbling to realise that so many have managed to contribute to this major change through so many small steps. From the pioneers of the 1970s, there have been thousands of families and individuals who have made small but courageous steps that together have made such a difference.
There is still much to do. Much work has to be put in to ensure that the principles that we stand for are implemented in a rapidly growing network of schools. We have to remain a strong, flexible, open-minded learning organisation. The reality is that a majority of the four-year-olds entering primary schools this September will live to see the year 2100, and around half of them will live beyond the age of 100. We now have to start thinking of education for the 22nd Century.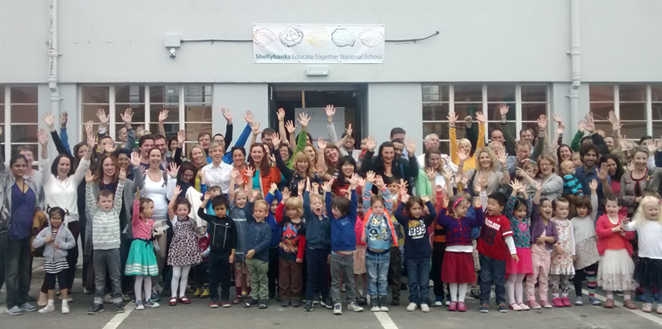 The Shellybanks ETNS school community celebrating their first day, 1st September 2014.