Educate Together Blog
Educate Together Blog
CEO Blog: Educate Together's Urgent Need for Funding
These last two weeks, we have been appealing for our supporters to take out a direct debit to support our work. There has been a lot of concern about Educate Together's finances.
Whilst our current network is strong and secure, we urgently need additional resources to meet the scale of demand for new Educate Together schools. At the moment, we have confirmed projects ready to move with Department support in 25 areas.
These are just the primary schools. In addition, we have five second-level projects already approved and in planning. One in 2015, and four more in 2016.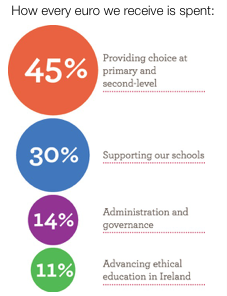 The mathematics are quite clear. Over the past ten years, our figures show that, in Ireland, it costs us on average €95,000 to open a new primary school over four years. The current level of state grant is €10,000 per new school. This means we have to raise €85,000 for each new school. Twenty-five new schools equals? A lot of money.
The situation at second-level is more daunting. We are in discussion with the Department about funding the start-up process of new second-level schools but at the moment the grant is zero. 
As a result, Educate Together currently has to fundraise more than 80% of its costs in relation to opening new schools.
So we are asking for our supporters to do two things:
1) Take out a direct debit if they can: 

2) Ask their political representatives to lobby the government to increase the grants for new schools.
I feel we are near a tipping point that could see a genuine transformation of the Irish education system. Real reform of the learning environment at second-level and real choice for parents at primary in all parts of the country.
For this to happen, the agents of change have to have the resources to bring it about.
Sorry to have to go on about this, but it must be said.
Thank you. 
Paul Rowe,
Educate Together CEO
Will you please consider supporting Educate Together by setting up a monthly direct debit, a standing order or making a once-off donation today?