Educate Together Blog
Educate Together Blog
Stand Up! Awareness Week against Homophobic & Transphobic Bullying: March 2014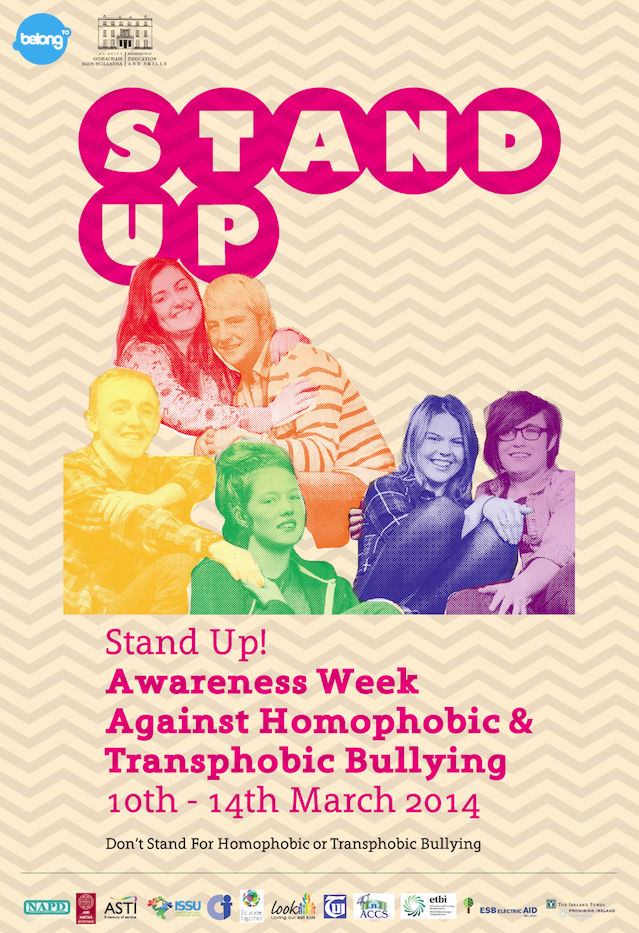 Advance Notice! Stand Up! Awareness Week against Homophobic & Transphobic Bullying 10th – 14th March 2014 Don't Stand for Homophobic or Transphobic Bullying!
We're delighted to announce the dates for BeLonGTo's next national Stand Up! Awareness Week: 10th – 14th March 2014. Stand Up! is funded by the Department of Education and endorsed by education partners such as Educate Together to tackle homophobic & transphobic bullying by building friendship between Lesbian, Gay, Bisexual and Transgender (LGBT) pupils and other young people.
Stand Up! will be very useful in helping schools to meet the DES's new Anti-Bullying Procedures, which require schools to develop anti-bullying policies - including prevention strategies - by early 2014.
The DES Anti-Bullying Procedures include the following points:
LGBT students are among the 'more vulnerable pupils' (p. 14.)

Prevention should specifically address homophobic and transphobic bullying (p.6.)

Positive school climates (pp. 21-27) should be encouraged by, e.g. 'open dialogue' across school communities, awareness-raising, and 'specific statements of welcome and respect for LGBT members of the school community' (p. 26), etc.
For more information see: www.belongto.org