Educate Together Blog
Educate Together Blog
More than ever, parents want to send their children to Educate Together schools
Recent letters in the Irish Times have tried to cast doubt on the level of demand for Educate Together schools. Some suggest that our schools are "undersubscribed" and others suggest that there is "huge local hostility" to the establishment of our schools.
Whilst I do not want to imply that there are no schools in our network of 74 that have low enrolments, the overall reality is so far away from these statements, that there must be a question as to the motivations involved.
In the past year, there have been more parents than ever before wanting to send their children to an Educate Together school. Despite all the physical and financial obstacles, our network grew by six primary and three second-level schools. By the end of 2014, the average size of an Educate Together school was 248 children, the largest average size of any provider in Irish primary education.
In urban areas, the numbers are quite staggering, in some suburbs, there are over four times as many applications as there are vacancies and these rates are now beginning to be seen in semi-rural areas.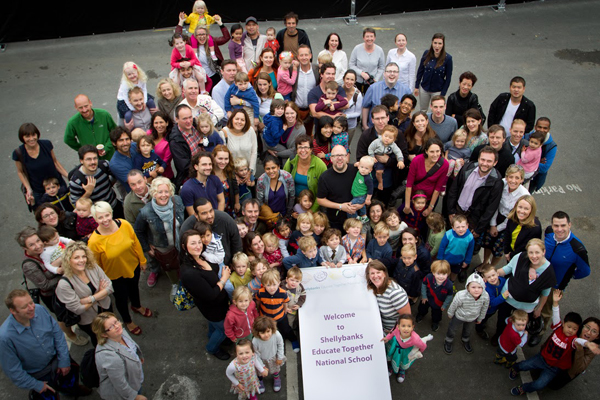 Junior Infants and their parents at the opening of Shellybanks ETNS in September 2014
In 2012 and 2013, an independent committee reviewed the results of a government survey. In 25 of the 28 areas in which a judgement was made that there should be a change, the committee recognised that there was viable demand for a new Educate Together school.
What is particularly interesting about this continued surge of demand is that it is not happening as a result of a massive marketing campaign. Educate Together is a sparsely funded educational charity with very tight budget lines. The growth of demand is being fuelled by the reputation of our schools and a generation on generation change of attitude amongst Irish parents. Many tell us that they are choosing Educate Together schools because they feel this best prepares their children for the diverse globalised world into which they are growing up. They also approve of the idea that children should be cherished equally in a school irrespective of their social, cultural or religious background. The fact that children are afforded a safe space to explore all the main religious and non-religious life stances and that faith formation is seen as the responsibility of the family is also cited as a benefit.
Educate Together has little evidence of local hostility to its schools. The overwhelming experience of our school leaders is that they have good working relationships with local Catholic and Protestant schools, with local parishes and the community in general. Our aim is to provide a balanced choice which is to the benefit of the whole community.