Educate Together Blog
Educate Together Blog
President of Ireland, Michael D. Higgins and the Educate Together movement
It would seem quite natural that the President of Ireland, Michael D. Higgins, will be attending Educate Together's AGM this coming Saturday 21st May. The President and his wife are both long term supporters of the Educate Together movement. Both were founding members, as well as active Board members, of the Galway School Project (now Galway Educate Together NS), one of Ireland's first equality-based schools. 
Sabina Higgins was a prominent figure at the school from the offset, serving as the school's first Chairperson of the Board of Management and was instrumental in setting up the Parents' Council to promote the role of parents in education. Indeed, both were early advocates for educational equality at a time when politics was very different from today.
The day the Galway school first opened its doors - September 1st 1994 - was a significant day for both Educate Together as an organisation and for Ireland as a whole. An IRA ceasefire in the North had been called, a historic moment for the island of Ireland. Laura Brennan, former Board Member of Galway ETNS, has a distinct memory of then Deputy Michael D. Higgins sitting amongst the Junior and Senior Infant students in the newly opened temporary school building that day. She recalls:
"It was symbolic and moving day for the school and for Ireland as a country. There was the future President supporting a relatively new and progressive educational option for children and parents across the country. It was quite fitting that the loyal patron of Educate Together returned ten years later to open the school's permanent premises."
1994: Michael D. Higgins TD at the opening of Galway School Project (now Galway Educate Together NS) with the then Minister for Education, Niamh Bhreathnach TD
When Michael D. Higgins became President in 2011, pupils from both Waterford Educate Together NS and Ennis Educate Together NS were honoured and thrilled to be invited to attend his inauguration ceremony at Dublin Castle. Through the throng of cheering children, a sixth class pupil from Waterford ETNS managed to present the new President with a special token from the school after the inauguration. The President wrote in a letter to the graduating children of Ennis ETNS later that year, extolling both his and Sabina Higgins' shared support for the equality-based schools movement: 
"My wife Sabina and I have it as one of our warmest memories that individually and together we served on the board of Galway School project, one of Educate Together's first schools in Ireland. Educate Together will be a great patron in education, celebrating as it does the great values of diversity, solidarity, inclusion and participation. Creativity is at the heart of everything Educate Together do. Sí an cruthhaíocht bun-cloch fealsúnachta Educate Together." 
As Head of State, President Higgins has championed core themes of generosity, courage and respect for fellow citizens, of a shared culture, equal treatment and inclusion. That real sense of respect for every citizen and every child, irrespective of their social, cultural or religious background, is at the heart of what Educate Together is all about. What better way to mark the progress of our movement this year than with one of Ireland's champions of respect and inclusion, President Michael D. Higgins. 
We look forward to welcoming the President of Ireland to the Educate Together Annual General Meeting this Saturday.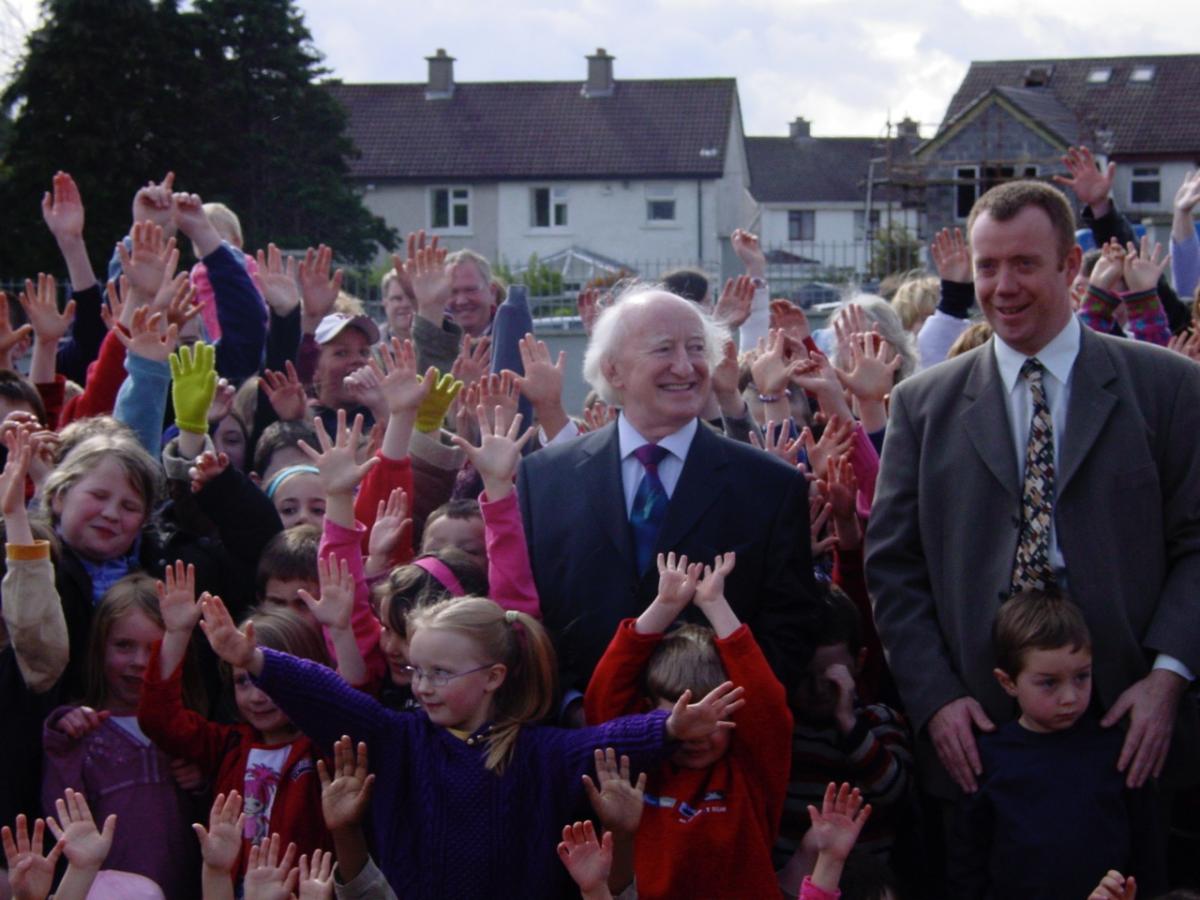 2004: When Galway Educate Together NS moved into its new home in Newcastle, Michael D. Higgins TD officially opened the new school building alongside the School Principal John Farrell