Educate Together Blog
Educate Together Blog
Pupils' Voices: Studentmeet 2018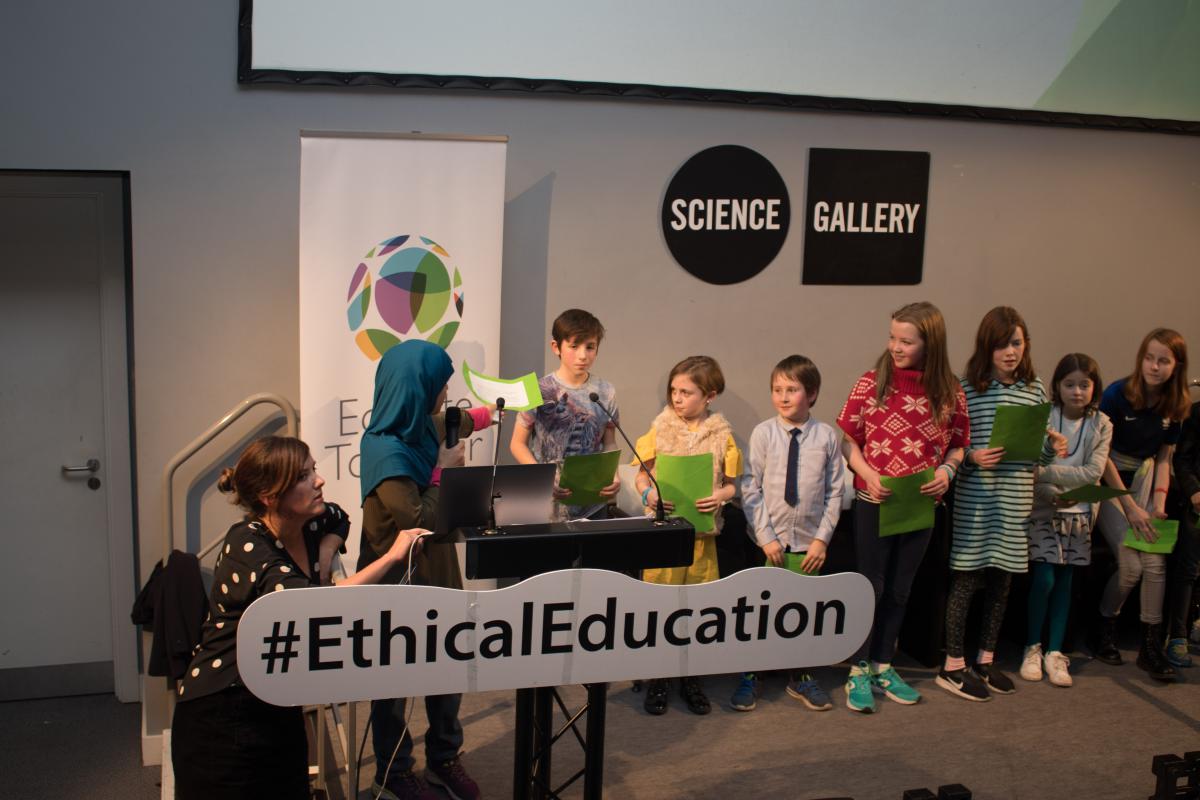 The crowd jeered and whistled and burst into laughter. A primary school pupil was up at the podium and a photo of the teachers' toilets had just appeared on the screen behind her. And what toilets they were. There were neatly folded towels front and centre and an aura of taste and discernment pervaded all.
The pupil in question was part of a contingent from Canal Way Educate Together, presenting on how they, as a Student Council, had decided to tackle the awfulness of the children's loos.
They had surveyed teachers and pupils alike and the smelliness and starkness and downright primitiveness of the facilities had come to the fore. They went on to link the situation to World Toilet Day, which highlights the importance of proper sanitation and finished with an aspiration to move to more environmentally-sustainable appliances down the line.
I was standing at the side of the stage with two other adults and as one we agreed that at their age, there was no way, absolutely no way, we could have spoken publicly in such clear, articulate terms. To be honest, as a grown-up and one of the organisers of the event, I had felt nervous and a little apprehensive just kicking the whole thing off.
Where did these pupils get their confidence?
You have to hope that our ethos has something to do with it. The fact that we place such a huge importance on pupil voices. That we recognise that children need to have some kind of say in how things are run, not only in their school but in the world around them.
The presentation was part of the StudentMeet section of the Ethical Education Conference, where students speak about initiatives they introduced into their schools. It's a word that our section in the National Office pretty much made up a couple of years ago. The whole concept is based on a TeachMeet, where teachers present in short, snappy segments on classroom approaches and resources, with the entire session interspersed with games and raffles.
The Student Council from Dalkey School Project ran the show and every now and then tossed the trickiest of riddles into the mix which had us adults, loitering at the side of the stage, scratching our heads. But the audience, made up primarily of students from other schools, had no problem shouting out possible solutions, duly arbitrated by the individuals on stage.
Other presentations were from students in Celbridge ETSS who argued poignantly and passionately on the need to take action against Climate Change; students in Stepaside ETSS who had designed a really innovative structure to attract bees; students in Griffith Barracks MDS who spoke about their Student Dáil and how democracy works within their school; students in Malahide and Portmarnock ETNS who had organised a whole cleaning regimen for their classrooms and the organising students in Dalkey SP who highlighted the fact that their school had turned 40 during the year.
Congratulations to all!