Educate Together Blog
Educate Together Blog
Volunteering in Rwanda
In October 2014, Ciaran Burke, a teacher in Bracken ETNS travelled to Rwanda with international development organisation, VSO Ireland. Rwanda has made great strides since the genocide in 1994 that took the lives of over 1 million men, women and children but challenges remain. An entire generation of teachers lost their lives in the genocide leaving most schools without qualified teachers. Ciaran volunteered to work as a Literacy and Numeracy Advisor in Kirambo District near Lake Kivu for twelve months and here he describes preparations for his journey and the educational context in Rwanda.  
'I had been thinking about volunteering for a number of years. I was looking to use my teaching skills in a developing environment and a different culture and also to recharge my own batteries. When I applied to VSO the job opportunities that were available that suited my skills were in Rwanda. I thought I'll just volunteer and they will be happy to have me but in fact the application process is very detailed - an online assessment/aptitude test followed by a face to face interview (over an hour) and submission of my qualifications for approval by the Rwandan Education Board.
The interview and the aptitude test are more of an assessment of your ability to; deal with different cultures; cope with being an outsider and work within an overall project team. There were then some online courses to be completed on VSO's work, the placement country and working as a volunteer. There was also a weekend residential course in Cambridge that focussed on skills for working in development. One of the big advantages of this course was that I met some other volunteers who were also going to Rwanda.
I underestimated the amount of work in getting ready to leave for Rwanda. All the simple things like organising mail, cancelling utility accounts, informing the bank in addition to buying what I needed for the trip took a lot of time and effort. VSO provide contact details of returning volunteers who can advise outgoing volunteers. I can't overstate the value of linking in with a network of volunteers. It is the other volunteers you will learn most from and who will provide the most valuable advice. 
My role in Rwanda is as a Literacy and Numeracy Advisor or LNA. (the teaching profession throughout the world seems to love acronyms!). I work in a Teacher Training College (TTC, there's another one) in Kirambo, which is in the north of the country in Burera District. The job involves working with tutors and teachers at the college and in the community to improve teaching methods in English and Maths and to create appropriate resources for teaching these subjects. I will also work in trying to involve the local community in the Teacher Training College and try to foster a culture of reading. 
Rwanda has a well-developed education policy and its curriculum is currently under review to encourage more learner centred methodology. When I attended a course on Learner Centred Methodologies the facilitator asked us to identify barriers to implementing these methods. The answers could have come from an Irish group - class sizes, overloaded timetable, the standardised tests not assessing this type of learning and lack of resources. However, there are stark differences between Ireland and Rwanda - for example, in Rwanda primary teachers train for 3 years from what would be our junior cert level to leaving cert level so student teachers are between 14 and 18 years old and classes are generally 50 or so. 
The big curriculum change came when English was introduced as the primary language for teaching. Currently children from Primary 3 (about age 10) are taught through English, a policy that has been in place for less than 10 years. The issues that arise are that most of the older teachers, above 30, would have been taught through French. Consequently, many teachers are not as confident in modelling English as they would be in French or Kinyarwandan. I believe that the policy makers thought that the changeover would result in a more rapid increase in the number of English speakers but I think that the process is going to take longer. Most people speak Kinyarwandan as a first language and, based on my experience, French is still more widely known as a second language than English. There are a number of projects to improve the acquisition of English and it is one of these that I am involved in.
An image of West Kirambo, where Ciaran is based - ' it is still surprising how green the country is. The tourist office calls Rwanda the 'Land of a Thousand Hills' and that is certainly true'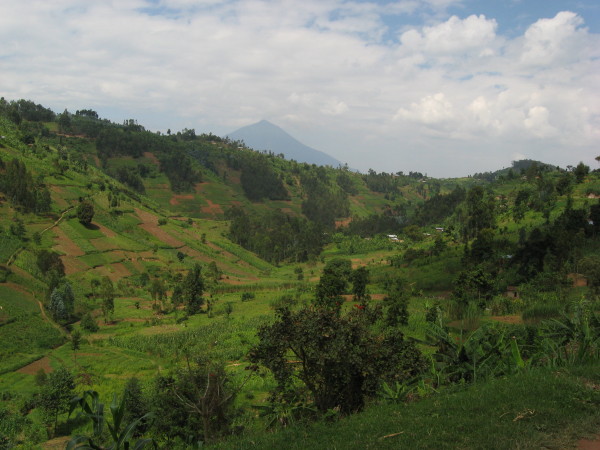 In his next blog from Rwanda, Ciaran describes the physical beauty of Rwanda and comments the social and cultural life of the country.