Educate Together Blog
Educate Together Blog
Working Together to Create a More Inclusive Society
Maeve Corish, Principal of Donabate Portrane ETNS, on how the school became an Ashoka Changemaker School this year.
In Spring 2014 I was approached by Conor Ward of Ashoka Ireland and asked if DPETNS was interested in becoming a Changemaker school - schools that worked to develop empathy and a sense of social entrepreneurism in their students. 
Not wanting to create an extra layer of work for a hardworking and busy school community I checked if this was about highlighting work we were already doing or whether it would bring with it a whole new set of goals and objectives.  Conor explained that it was definitely about advertising initiatives that were already in place and connecting with other schools to learn what they are doing to promote empathy and social entrepreneurism.
After the initial phone call we arranged for a visit from Ashoka to the school.  During that visit Conor and his colleague, Serena, informally met a number of students, staff members and parents.  We set up a Changemaker school committee and filled in an application form.  We were then invited to the Ombudsman for Children's office for an interview to see if we made the grade. I was accompanied by Colm Byrne, the teacher in the school with responsibility for Learn Together and Nadine France, one of our many dedicated and enthusiastic parents.  In the interview we were asked a number of questions about our school. The interview panel were interested in the inclusion of children with Special Educational Needs and the Peer Mediation programme in the school. However, it was our Cambodian Partnership and our work on Positive Mental Health that interested them the most. Both of these initiatives are firmly connected to the Learn Together Programme.
Cambodia/Ireland Partnership
For a number of years now we have been seeking to create an organizational partnership with a school or organization in the developing world.  We have a strong commitment to Development Education in DPETNS and felt that a partnership would really put flesh on the bones of the Equality and Justice strand of Learn Together.  Four of our teachers travelled to Cambodia in July 2013 to explore the possibility of creating a meaningful partnership that would be mutually beneficial.  The four teachers worked voluntarily as teachers during their stay. One of our parents, with expertise in the area of development education, set up a number of meetings with different organizations in Cambodia.  It was during this time that we were first introduced to PEPY.  PEPY stands for Promoting Education emPowering Youth and from the very first meeting we knew this was the organization for us.  Sharing the core values of Educate Together, this non-denominational organization has a human rights focus.  Working in a rural area surrounding Siem Reap, PEPY focuses on the importance of education as the way to help young people realise their dreams and ambitions. 
We have been working with PEPY ever since. Last year students in both countries explored the themes of Identity and Positive Mental Health. Letters and pieces of art work were exchanged and students in both countries learnt a little about the traditions and cultures of both countries.  In Summer 2014 two of our teachers, Colm and Micheál and Cecilia a teacher from Balbriggan ETNS travelled to Cambodia and worked with the students from PEPY. 
Colm is currently on Career break working with PEPY and we keep in regular contact with him through Skype. Thanks to funding from the INTO we are now looking forward to welcoming two teachers and two scholarship students from Cambodia to visit Ireland next April.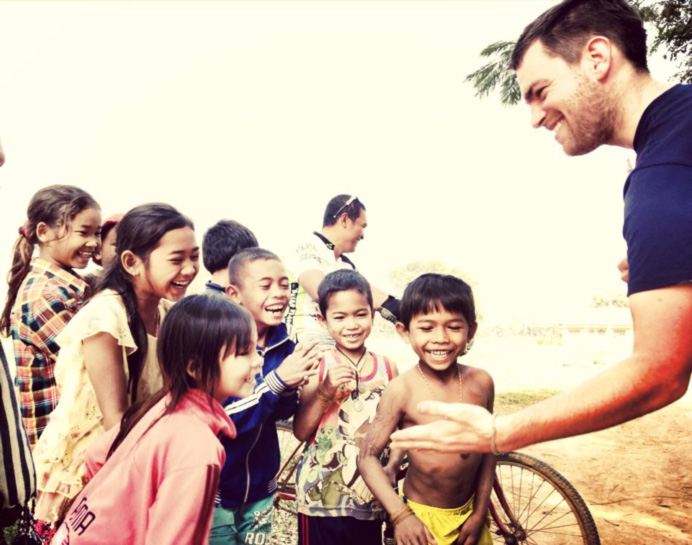 We would love if any other Educate Together school would like to learn more about our project or get involved in whatever way they would like.  If you are interested please have a look at the website cambodiaireland.com   This has been a very enriching and rewarding experience  for our school community and our efforts to create a real sense of global citizenship in our students was central to our receiving the Changemaker award.  Coincidentally we discovered that PEPY is also a Changemaker organization!
Positive Mental Health
For three years now we have hosted a 'Positive Mental Health' initiative each January. As part of Learn Together we teach a number of discrete lessons on minding your mental health.  The lessons centre around five different themes:
the importance of talking about our feelings and emotions

the importance of daily habits (eg diet, sleep, exercise etc)

the importance of doing something you enjoy every day

how to deal with negative emotions

creating a safe physical environment
The first year we spent two weeks on this topic but now we dedicate a full month to the theme.
We have invited the children to dress in odd shoes and have raised awareness through the 'Walk in My Shoes' campaign. For One Day Together last year we asked the children to wear funny hats or odd shoes to highlight positive mental health. We have tried to remove the stigma sometimes associated with Mental Health issues by raising awareness and simply talking about it.  We have been astounded by the positive response we have received from our parents and members of the wider community who are delighted that we are tackling this issue in a positive proactive way.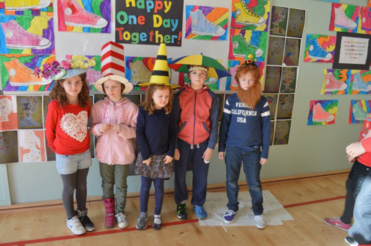 Positive mental health is as important here in Ireland as it is in Cambodia and this is one of the topics which are explored and shared by students in both countries and is a central theme in our partnership with PEPY.
I always feel lucky to be working in an Educate Together School.  It is the ethos of the school that helps me to get out of bed in the mornings.  I love the flexibility that we are afforded in the Learn Together Programme and how the four strands of our curriculum allow us to address the issues and needs of our own community and to respond to the ever changing world we live in.  Human Rights Education lies at the heart of Learn Together and at the heart of any school working to develop a sense of social entrepreneurism.
In October we were awarded a plaque and named as one of the first five Changemaker schools in the country. We are proud of the award and the opportunity to affirm the work we are doing in DPETNS.  It was inspiring to meet the children and teachers from the other schools receiving the award and to learn about the different initiatives they are undertaking.  We hope to visit these schools over the coming months and learn from those visits.  The day after we received the plaque our 4th, 5th and 6th class students were invited to DCU to see Muhammed Yanus receive an honorary degree.  DCU is the first Changemaker University in Europe joining a number of other third level colleges across the world.  Our students learnt so much from the visit and felt privileged to meet a Nobel Peace Laureate and to hear him speak about Grameen Bank and their efforts to eradicate poverty.  The visit to DCU was truly inspiring.
I know that DPETNS is only one of many schools across the country with students, staff and parents working together to create a more inclusive society. I hope that the Changemaker movement will grow in Ireland and we will build a strong network of schools throughout the country dedicated to inspiring our young people to be the change they want to see in the world.
Ashoka have produced a beautiful video showcasing the five Irish Changemaker Schools.