Accountability & Resource Allocation
Finances and Governance
Finances / Salaries
Very simply, Educate Together opens and supports schools. Educate Together is a registered charity. We receive a core grant from the state which covers 10% of our operating costs, so we must generate funds from other sources to continue to do the work that we do.
To see how Educate Together puts funds to use, you can also view our most recent Annual Report and Audited Accounts
The maximum salary in Educate Together is the CEO's, and there are no bonuses paid. 
No Educate Together director receives any remuneration whatsoever from the company. All carry out their roles in a voluntary capacity.
Educate Together has only one fully State funded position. This is a seconded post from the Department of Education, awarded in September 2013. No additional remuneration is provided for this post out of Educate Together funds.
The Educate Together board, on behalf of the member schools of the company and its fundraisers and supporters, is deeply grateful to its staff who perform to the highest standards and commitment.
Corporate Governance
Educate Together is committed to maintaining the highest standards of Corporate Governance. 
The Board of Directors of Educate Together committed to the following Principles of Good Governance:  
Principle 1) Leading our organisation
Principle 2) Exercising control over our organisation
Principle 3) Being transparent and accountable
Principle 4) Working effectively. 
Principle 5) Behaving with integrity. 
We have a proud track record of transparency and Educate Together is committed to implementing fully the voluntary Governance Code for Irish Charities. For more information on the Governance code go to 
www.governancecode.ie
Accountability
We believe that setting and maintaining high standards is a key element in demonstrating accountability to our funders and our members. Educate Together's Annual Reports and full audited accounts are available on this website and on the Companies Registration office website. A complete list of all decisions made at the General Meetings of Educate Together (1999 - present) is also available to download. 
Get in Touch
If you have any queries about our finances, please consult our annual reports. If you have any questions please contact us at +353 (0)1 429 2500 or email us: info@educatetogether.ie. Thanks for your continued support!
Guiding Principles for Fundraising
The Statement of Guiding Principles for Fundraising is a guide to best practice that has been developed by a steering group set up in response to the Charities Act 2009. It is a voluntary statement of intent that we, as fundraisers for Educate Together, fully intend to follow and lead others to do the same. More informaiton can be found here. 
How to Help
Educate Together relies on the generosity of parents and the public. Contributions, whether they are a single donation or a monthly contribution, mean that we can continue to open schools, support them and ensure children are receiving the highest quality of ethical education.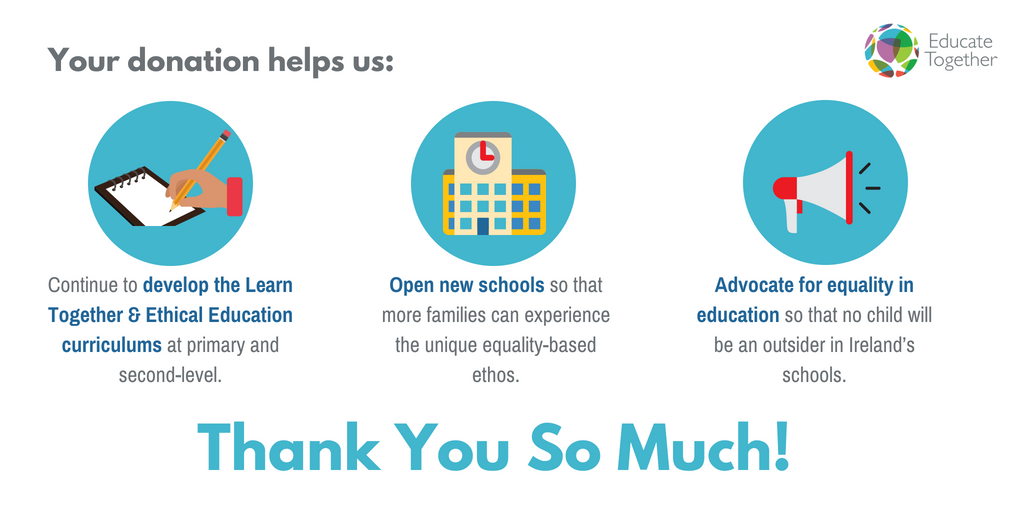 Will you please consider supporting Educate Together by setting up a monthly direct debit, a standing order or making a once-off donation today?