News
News Releases
Strike for climate – school students call for mass protest on March 15th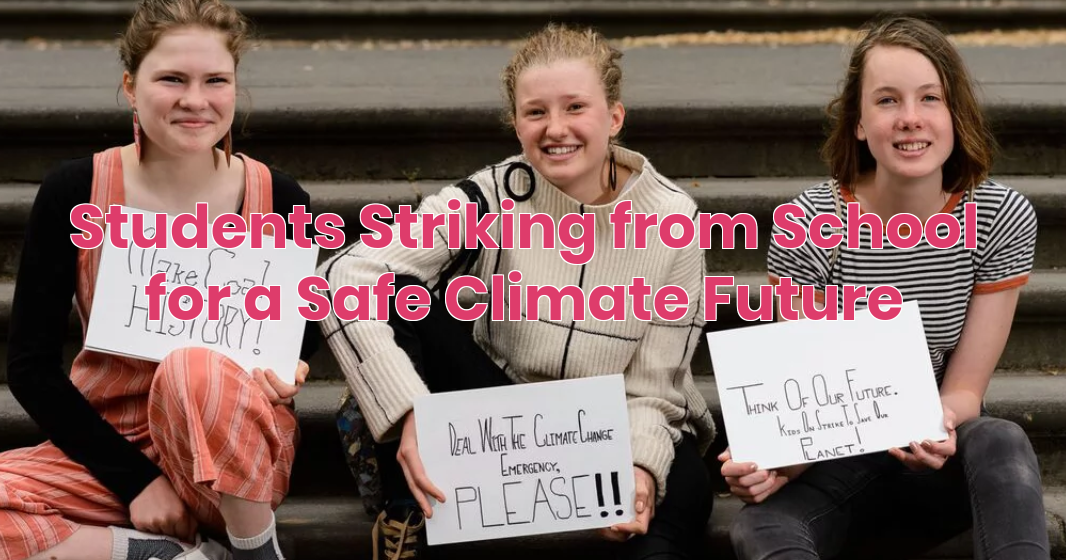 Students at nine secondary schools are calling on their fellow students across Ireland to engage in a mass protest during the school day on Friday 15th March to demand action from the Irish Government on climate change.
Inspired by a rapidly growing movement of young climate activists around the world – and in particular by Swedish 16-year-old Greta Thunberg's call for action – students at Cork Educate Together Secondary School (CETSS), North Wicklow Educate Together Secondary School (NWETSS), The King's Hospital School in Dublin, Newpark Comprehensive School in Dublin, Piper's Hill College in Kildare, Limerick Educate Together Secondary School, Colaiste Chraobh Abhann in Wicklow, Stepaside Educate Together Secondary School and Cabinteely Community School in Dublin and are planning protests to highlight the dangers posed by the failure of adults to address climate change.
Mira Henchi, a 2nd year student from CETSS said, "We don't want to live in the consequences of your bad actions. There is no option 2. If we don't act now we may not be able to act at all."
Elodie Bonhomme, also a 2nd year student from CETSS said, "If one person speaks out then people in power won't notice, but if there's a big group of us students doing something then it'll get noticed. We urge you to join us on the 15th of March."
The students plan to hold a variety of actions on March 15th, the nature of which will be decided by students in the coming weeks. The students hope to meet up with students from other schools to plan the climate actions together. Possible actions include striking outside their school gates, the Dáil and local government buildings around the country. In doing so, secondary students in Ireland will be joining other young people around the world in a global 'School Strike for Climate Action' on the same day.
In advance of this major Schools' Strike for Climate on Friday March 15th, some school students, supported by their teachers and some concerned parents, will also be protesting outside the Dáil each Friday at 1pm, while some students have been gathering on Fridays outside City Hall in Cork.
Joni Morris, a 2nd year student at NWETSS, said, "By taking part in the Student Climate Strike we will be bringing an idea from conception to reality and taking action to safeguard and promote our well-being and that of others."
Lucas Feller, a 1st year student from CETSS emphasised, "This isn't just a one-day thing or a day off school for us. This is us trying to make a bigger impact on the world." 
A number of other 1st year students at CETSS have also voiced their concerns.
Sumaya Mohammed commented, "This has been going on since the 19th century. Governments have lots of power yet it takes students to try and make a change."
Ruby Arozamena said "Our world has survived while other species have perished. If we keep going at the rate we are, I fear what my children will think of my generation."
Fellow 1st year student Oisin Twomey asked, "Do you really want us growing up in a barren world without a future? The world is changing and so should we."
Students, with the help of their teachers, are connecting students, teachers and principals around the country who are concerned about climate and building a Schools' Climate Action Network. Students at CETSS plan to hold a meeting in February for students in the Cork area interested in climate action. It is hoped other schools will also offer to host meetings in other parts of the country so that students can decide together what form their actions will take on March 15th.
Speaking of the plans, Colm O'Connor, principal of CETSS, said: "Young people in secondary schools don't have a vote, but will be more affected by climate change than those in power. What we do in the next 12 years will affect them for the rest of their lives. It's very inspiring to see students in our school and in so many other schools around Ireland so passionate about this and determined to make their voices heard."
"This is an excellent opportunity for school principals and teachers, around the country, to promote authentic Student Voice, and I would strongly urge other school leaders to join the network and support their students if they choose get involved on the March 15th," O'Connor continued.
Pádraig Conaty, deputy principal at NWETSS, commented: "In tackling climate action, students are activating key skills, engaging with global issues, and learning to become active citizens. Active citizenship and providing a real and meaningful platform for student voice is a cornerstone of our school."
Noel Cunningham, science teacher at The King's Hospital School, said, "If a number of schools get involved then we can facilitate the students organising as much as possible themselves by working with each other. Every skill they should be developing, whether in Junior Cert, TY or Senior Cycle could be enhanced by this kind of experience. As teachers and parents we owe it to young people to help them get more involved in protesting about this. After all it's their future that's being messed with."
A twitter account @PulltheBrakes has been set up as an initial means of communication. A student-built website will follow shortly once students have had time to meet and plan. Students from Stepaside ETSS have also set up their own twitter account @StepAgainstCC.