Our Network
Primary

Educate Together schools are child-centred and focused on the best educational outcomes for your child. Our teachers bring the curriculum to life by encouraging children to think, question and engage with both their teacher and each other.
Our Ethical Education curriculum 'Learn Together' supports children's moral and spiritual development and teaches children about different belief systems. Everyone takes part and no one has to opt out.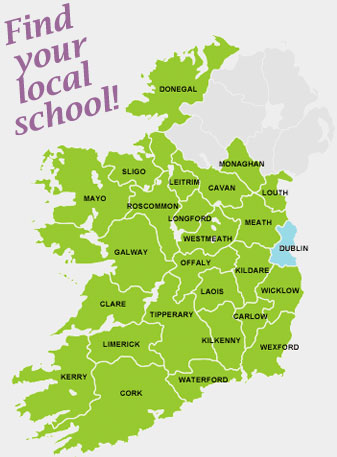 Educate Together schools have four underlying principles:
Equality-based – children of all denominations and none are equally welcome into our schools.
Co-educational – Educate Together schools are open to girls and boys and gender stereotyping is addressed and challenged.
Child-centred - this applies not only to teaching and learning within the classroom but to all decisions at staff and management level, which must have the well-being of the children at their heart.
Democratically-run – parents are viewed as a positive resource for the school. Parental involvement is welcomed and encouraged, where appropriate. The professional role of the teacher is validated at all times.
Learn Together Ethical Education Curriculum
In place of religious instruction programmes, which are taught in denominational schools, Educate Together schools teach the Learn Together Ethical Education Curriculum. This curriculum has four strands:
Moral and Spiritual – children learn about feelings and values, the development of conscience, choices and consequences, stillness and meditation.
Equality and Justice – children learn about wants and needs, rights and responsibilities; the promotion of equality and the nature of democracy locally (student councils are encouraged), nationally and globally.
Belief Systems – children learn about the rites and ceremonies, celebrations, key figure and beliefs and values of the six main world religions: Islam, Christianity, Hinduism, Buddhism, Judaism and Sikhism. Schools also address Atheism, Agnosticism and Humanism.
Ethics and the Environment – children learn about appreciation and stewardship of the natural world. Educate Together schools have an ethos of respect, diversity & inclusion.
What is an Educate Together National School?
Educate Together schools are equality-based, co-educational, child centred, and democratically run. Educate Together schools are open to every child. Hit the Download button to learn more! 
Céard é Scoil Náisiúnta Oideachas Le Chéile?
Séard is scoil náisiúnta Oideachas Le Chéile ná bunscoil áiraithe atá ag fáil deontais stáit na hÉireann. Is cuid de ras scoil náisiúnta é a bhi bunaithe in 1831 agus a chuimsionn, leis na scoil speisialta, gach bunscoil atá faoi deontas stát in Éireann....
An Educate Together School in Your Community
Did you know? Only one Irish school in 50 is equality-based. Educate Together believes parents should have a choice. Download this brochure to learn more.