Advocacy - Our Campaigns
#EqualAccess & #EqualRespect In Irish Schools

State-funded schools should never be allowed to discriminate against young children
Educate Together, Ireland's equality-based school provider, contends that state-funded schools should never be allowed to discriminate against children on the basis of religion. Educate Together is not aware of any situation in which such discrimination is necessary in order to maintain the ethos of any school.
In a system wherein over 96% of the schools are religious-run, 'Catholic first' enrolment policies force many parents to compromise their own values in order for their children to access the local school. This is an unacceptable situation in a modern democratic republic. Children of all religious, cultural and social backgrounds should be able to access all state-funded education on an equal basis.
#EqualAccess & #EqualRespect In Irish schools
It is Educate Together's position that simply eliminating the get-out clause used by religious-run schools to discriminate against non-baptised children in their enrolment policies will not fully resolve the issue. 
Even if the right to discriminate on religious grounds was removed, it would not address the right of equality within the classroom. Once within a denominational school, children from non-Catholic families that 'opt-out' of faith formation will continue to experience discrimination as they are removed from certain lessons. This is an inadequate arrangement and does not address the inequalities embedded within the Irish primary school system. Nor does the scheduling of religious instruction to time slots at the beginning or end of the day to facilitate non-Catholic pupils either leaving early or arriving late. Catholic schools remain Catholic schools, as is their right. Prayers are said. Masses held. Hymns sung. Crucifixes and religious iconography line the walls. Assemblies reference Catholic holidays and Catholic rites. And surely, as we approach the centenary of the Proclamation of a Republic, citizens of the state should not be beholden to a religious body to gain access to primary education. 
A national network of Educate Together schools
The establishment of a national network of Educate Together schools, that guarantee equality of access and esteem to all children, is the solution. Lack of school choice for all families remains the fundamental problem - all children are welcomed in Educate Together schools and Educate Together will continue to lobby and open schools to provide a space where no child will feel like an outsider.
Our assessment suggests that a national network of approximately 300 Educate Together national schools, and an equivalent number of second-level schools is now needed. This is a modest number making up only 10% of the primary education system. Educate Together is calling on the Government the Department and the Catholic Church to work with us to provide this network by the year 2030.
What of those forgotten by the Government?
But what of the families in towns and cities who were already told by the Government that new Educate Together schools would be established for their children?
In 19 distinct areas, families are still waiting for the Educate Together national schools they were promised by the Irish Government under the divestment programme three years ago. These families were told by the Irish Government that they would see equality-based schools established for their children, run by Educate Together: Arklow / Ballina / Castlebar / Clonmel / Cobh / Dublin 6 / Dungarvan / Fermoy / Kells / Killarney / Leixlip / Loughrea / Nenagh / Palmerstown / Passage West / Rush / Shannon / Westport / Whitehall
One of the key obstacles to progress in this area is Government determination that this should be a 'no cost' programme. This is unrealistic. The time is now for a properly funded programme to meet the demonstrated demand for new Educate Together schools. In Dublin 6, in the past six months more than 1,000 children have signed up for a school that was committed to in 2013 under the school patronage surveys. Parents in Wicklow, Mayo, Tipperary, Cork, Waterford, Meath, Kerry, Kildare, Galway, Clare, and Dublin continue to lobby and are still waiting for their 'divestment' schools. Educate Together at second-level is also strongly in demand with 2,000 expressions of interest for a school in South Kildare and activists lobbying in a number of other counties. 
If the same parental preference surveys were taken again this year, it is Educate Together's assessment that the numbers of families seeking equality-based schools would be significantly higher. What is particularly interesting about this surge in demand is that it is not happening as a result of a massive marketing campaign. Educate Together is a sparsely funded educational charity with very tight budget lines. The growth of demand is being fuelled by the reputation of Educate Together schools. 
Educate Together contends that in order for the divestment process to be successful, the accommodation options being proposed by Church authorities must be both realistic and appropriate.
Key distinctions: Community National Schools and Educate Together
We have been asked many times by parents to clarify the differences between Educate Together and Community National Schools as both are often referred to as 'multi-denominational'. There are many differences in both structure and ethos:
For more than thirty years, Educate Together has offered an education that is equality-based, welcoming to children of all religious, social and cultural backgrounds and based on human rights. Educate Together schools are safe spaces where no child is made to feel 'other' or 'different' and which avoid the separation of young children according to religion.
Educate Together schools are set up and developed by groups of parents who wish to send their children to a school that is intentionally and purposefully learner-centred, co-educational and democratically run. They promote the fullest participation by parents, students and teachers in decision-making processes. This model of education is what parents in 25 areas expected when they opted for Educate Together to become patron of their local primary schools.
In Educate Together schools, faith formation takes place outside of school hours. This is integral to Educate Together's ethos and model, as it respects the human and intellectual rights of children, staff and parents. Community National Schools provide faith formation within school hours which requires the registration, labelling and separation of children according to the religious identity of their parents. The Community National Schools model has been configured to provide faith-formation facilities on the same basic structure as 90% of all existing primary schools in the State.
Amend Ireland's archaic education legislation
Repeal Section 7(3)(c) of the Equal Status Act which allows religious schools to discriminate in their enrolment policies against unbaptised children;

Rewrite the antiquated Rules for National Schools (including the controversial Rule 68): replace it with a set of regulations that are based on current statute. The Minister for Education promised to do this in December 2015. 
School Admissions: Establish an State Area-based Enrolment Authority
Educate Together's proposal is to radically change the way that the system addresses the mechanism of school admission. A state body independent of school patronage must be given the power to manage school admissions.  A website based application process should be opened each October for parents whose children are due to start school the following September. Parents can then register their preference for school type and school (first, second and third preference). There should be a cut-off date in January. The process should be correlated with the register of recipients of child benefit and a system put in place to make sure no children are missed.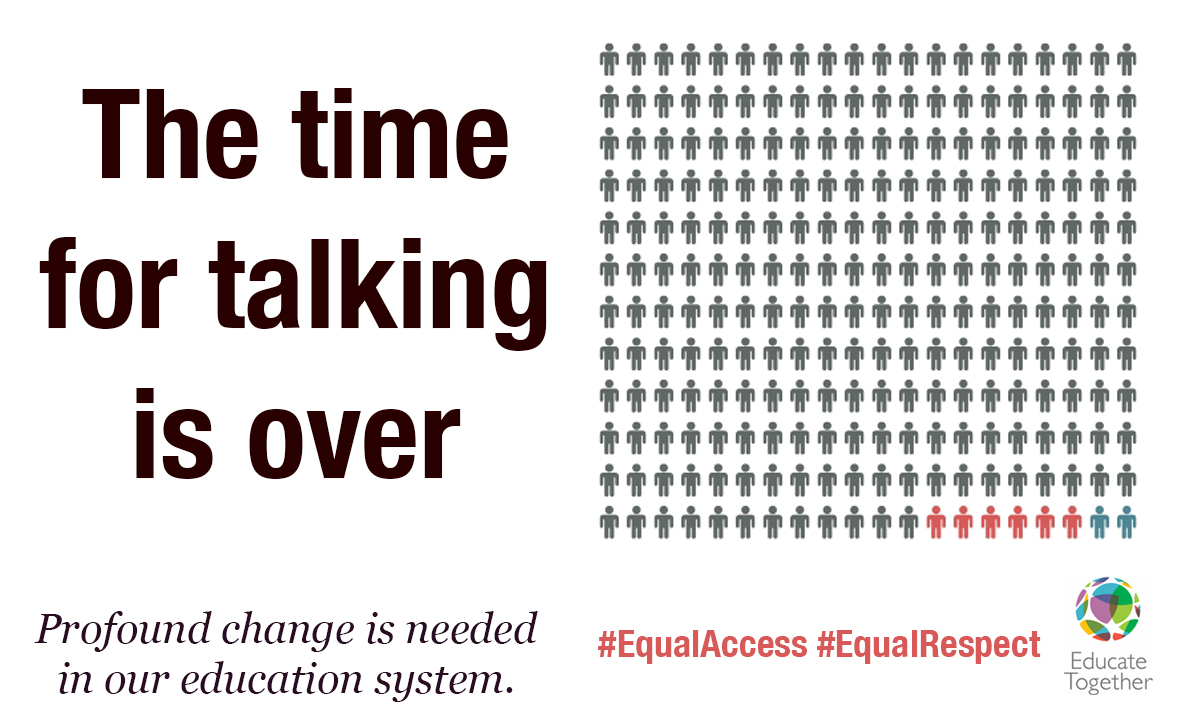 If Ireland is to have a balanced education system in which children of all backgrounds are respected, then real progress on school patronage must be made, now.